The Patient
Al-Halim (The Most Serene)
-Root word: h-l-m which means lenient, forgiving, calm
-Allah is calm and deliberate in that he is not hasty to punish and if punishment is given, it is completely perfect and reasoned
-This gives us to opportunity to be kind and gracious and patient
-Allah is so patient that He made us and puts up with us and still helps us. It arises from a sense of deep serenity, lenience, and calm deliberation. 
As-Sabur (The Most Patient)
-Root word: s-b-r which means to be patient especially in trial and to be steadfast and bear the travesties calmly and with self-control
-To be able to fully submit to Allah, one must be patient because patient arises through self-restraint and enduring without complaint which makes one gracious and thoughtful. 
The Peaceful
As-Salam (The Source of Peace)
-Root word: s-l-m which means to be peaceful, to be free from imperfections, to be safe. This implies a sense of wholeness in every way.
-He is perfect and the source of peace but also made creation perfectly and with no mistakes. So everyone is perfect because Allah makes no mistakes.
-People want to seek peace by battling and imposing their will on others but external peace can only be attained if internal peace is there and such peace is found only in and from Allah (SWT).
Al-Quddus (The Most Holy/Pure)
-Root word: q-d-s which means to be pure, far removed from imperfection, holy.
-The root word points to "other," something that is set apart and cannot be grasped by mankind so Quddus is unique purity and sacredness
The Most High
Al-Aliyy (The Exalted/The Most High)
-Root word: a-l-w which means to be high, higher, exalted
-The One who is above all that ever is and will be (infinite highness)
-He is the One who created all hierarchies
Al-Muta'aly (The Most High)
-Same root word
-Allah (SWT) is so high that it is beyond imagination but this is not restricted to location. This does not mean that He is far from His creation. Allah is not restricted by location. 
The Forgiver
Al-Ghaffar (The All-Forgiving)
-Root word: gh-f-r which means to cover, veil, hide
-In Qastalani's commentary on Bukhari, the "covering" refers to either between 1. man&sin which gives a more protecting and watching over sense and 2. sin&effects of sin which is Allah's forgiveness and veiling of the sin from others.
-The One who relieves us from suffering of continual remembrance of our sin (we are forgiven over and over again)
Al-Ghafur (The Forgiving)
-Root word: same as previous
-The One who forgives our sins and faults and who keeps the knowledge of our faults from even the angels.
-This word focuses more on perfection and the inclusiveness of forgiveness
Al-Afuw (The Pardoner)
-Root word: a-f-a which means to forgive, to kill off/let die, to obliterate, to give without constraint, to give more than what is due
-Al-Afuw refers to the complete removal of sin (like a might desert wind which completely obliterates the foot prints in the sand) 
At-Tawwab (The Acceptor of Repentance)
-Root word: t-w-b which means to return, to be restored, to be repeatedly summoned/called 
-The One who repeatedly returns mankind toward repentance
-The One who forgives those who return
-The word "taba" means to be sorry for wrongdoing and to turn to Allah regretting, repenting and doing good deeds.
-This name also implies that Allah is the controller of the means of repentance. He warns, reminds, forgives.
Al-Muntaqim (The Avenger)
-Root word: n-q-m which means to find fault, to punish, to avenge
-Allah (SWT) severely punishes those who commit sins
-This reassures to Muslims that Allah will fulfill our revenge on others so we do not need to seek out personal revenge
The Director
Al-Hadi (The Guide)
-Root word: h-d-y which means to guide rightly, to guide until reach goal.
-The reassures believers that there will not be a point where they will have to figure anything out on their own.
-There are 5 types of guidance
      1. Soul and innate inspiration. This is instinct and is given to all of Allah's creations
      2. Senses and feelings. This starts after birth. (ex: hearing in dogs)
      3. Mind. This type of guidance is special for humans to correct the wrongs committed by the first two types of guidance.
      4. Religion & Prophets. Our minds are limited but acknowledgment of a higher power is inevitable and we would be lost without Allah granting us the knowledge of Him.
      5. Special guidance. This is Allah's special guidance to His prophets.
-Al-Hadi refers primarily to the continuing guidance, leadership and direction that is kindly provided to reach the path and also along the path until the goal is achieved.
Ar-Rasheed (The Director of the Right Path)
-Root word: r-sh-d which means to be directed to take the right way.
-Allah is the One who is the supreme director to the right path.
-Ar-Rasheed refers primarily to being directed to, or set upon, the appointed right path with supreme certainty of the intended outcome.
The Light
An-Noor
From the root n-w-r which has the following classical Arabic connotations:
to give light, to illuminate, to fill with light
to clarify, to reveal, to make visible
to blossom, to be in bloom (revealed)
to be flaming, blazing and apparent to the senses
to enlighten, give counsel, give advice
His Light is of two types:
That which is perceived (hissee) such as the light that emanates from the universe and that would not exist without His light.
The spiritual (ma'nawee) which reaches the hearts and the hearing and the vision and that constitutes the light for the slaves in this life and the next.  The believer who perfects his faith is given light in his heart from Allah so that he sees the reality of things and he can clearly distinguish between falsehood and truth until it becomes a part of his life and his power toward good in knowledge and action. He is cleared of doubts and confusion and gets knowledge and clarity and is freed from lusts and negligence and darkness. His speech and actions are characterized as light and he is surrounded by it, while the disbeliever or the hypocrite, the rebellious and unmindful wander about confused and in darkness and all this is due to what they have themselves done.
Light controls everything. Without sunlight, there would be no plants, there would be no food and essentially no life. Also, studies show that people who do not get enough exposure to sunlight are more prone to being depressed (ie. seasonal depression disorder).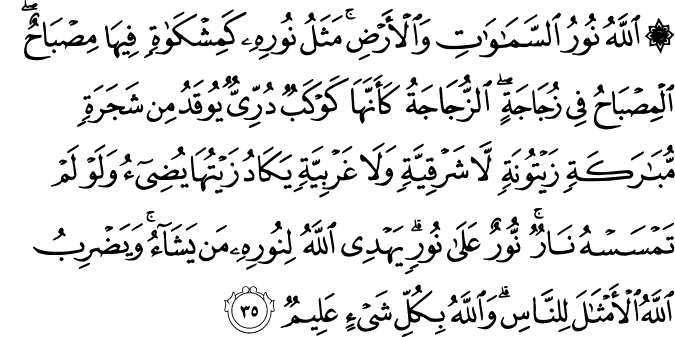 Sahih International
Allah is the Light of the heavens and the earth. The example of His light is like a niche within which is a lamp, the lamp is within glass, the glass as if it were a pearly [white] star lit from [the oil of] a blessed olive tree, neither of the east nor of the west, whose oil would almost glow even if untouched by fire. Light upon light. Allah guides to His light whom He wills. And Allah presents examples for the people, and Allah is Knowing of all things.
The First/The Last
Al-Awwal (The First)
-The beginning of every action, command, thought
-Allah (SWT) is before everything and anything.
-The root word is a-w-l which means to be before and to comeback to which emphasizes that even at the end, we will come back to the beginning (cycle of life).
Al-Akhir (The Last)
-The One who remains
-Root word is a-kh-r which means to put at the end, to put back, the last, final, ultimate.
These are complimentary traits in the Quran and usually when the names of Allah (SWT) are mentioned in the Quran there is no "and" in between them because Allah is all of these qualities at the same time. But when these two words are mentioned, there is an "and" between them because of their complimentary nature. These two words are part of one whole concept.
The One
Al-Ahad (The One)
-He is the ONLY in every sense of the word
-The root of Ahad comes from a-h-d which doesn't just mean "the only one" but also means "to unite/unify"
-Ahad cannot be divided into parts nor can the parts be distinguished from one another.
-Refers to the only one who has no second. No one even comes close to being second like how Christians put Jesus up there.
-This word is used only to describe Allah (SWT)
Al-Wahid (the One)
-Roots of Al-Wahid refers to the manifestations which arise from that unity
-Wahid has the appearance of being divisible into separate parts or being comprised of separate parts
-The One source, solitary starting point. Unlike Al-Ahad which is the One that cannot be divided, Al-Wahid refers to the One that is made up of many parts. From this unity many creations manifested.
-From humans' point of view, Allah's creations seem separate and diverse but they are actually One.
The Provider
Ar-Razzaq (The Provider)
-Allah (SWT) provides for all creatures in 2 main ways
       1. A general provision for everyone (bodily sustainance like air, water, air pressure, sunlight)
       2. Specific provision for the believers nourishment for the heart (knowledge and faith). This nourishment is apportioned to Muslims according to their levels of belief.
-The root r-z-q points to the idea of the receiving of anything beneficial, particularly a gift, whereby something is nourished, sustained, or helped to grow physically, mentally or spiritually.  
Al-Qayyum (The Sustainer)
-Allah is the Sustainer in a guidance sense. He regulates the affairs of the heavens and the earth.
-Abu Hurairah reported that whenever the Prophet, peace be upon him, was faced with a serious difficulty, he would raise his head to the sky and supplicate, "Subhan-Allah al-'Azim (glory be to Allah, the Mighty)." And when he implored seriously and strongly, he would say "Ya Hayyu, Ya Qayyum (O Ever-Living One, O Self-Existing One upon Whom we all depend)."   (hadith of Tirmidhi)
Al-Mughnee (The Sufficient)
-Allah is perfectly self-sufficient which makes the entire creation dependent on him.
-He gives people what they wish for and what they don't ask for. 
The All-Powerful
Al-Muqtadir (The Omnipotent)
-Allah (SWT) has unlimited power 
-He creates all power and has total control over it 
- Muqtadir is an intensive form of the root q-d-r which emphasizes the use Supreme Power to actively enforce whatever Divine wisdom decides.
- The Arabic prefix mu at the beginning of the word points toward the means by which something happens, or the embodiment of an action, leading to translations such as the one who is, or the one who does (similar to the suffix er in English).
Al-Qadeer (The All-Powerful)
-Allah (SWT) has complete and perfect power and ability
-His power brought everything to existence the way He wanted it to
-He gives us our power and regardless of how much power one is given, they can do nothing to prevent adversary to something that Allah has decided will happen (our power is and will always be limited).
Al-Qawiyy (The Most Powerful)
-Power comes easy to Allah
Al-Mateen (The Most Strong)
-This word refers to Allah's invincible sense of power where nothing can even possibly fathom touching or reaching his strength.

These last two words (Al-Qawiyy and Al-Mateen) deal more with the concept of strength as in His strength is what created, sustains, destroys everything.
Al-Aziz (The All-Mighty)
-The One who brings might/honor in its entirety
-He has prevented all others from grasping Him
-2 Types of Might
     -Might like a king (where everyone is indebted to Him and is yielding by His greatness)
     -Might of compelling force (where everything is submissive to Allah and compliant with His desires and we can't do anything without His power, strength, and permission) 

Sahih International
Allah is Subtle with His servants; He gives provisions to whom He wills. And He is the Powerful, the Exalted in Might. (42:19)